Faculty of Traditional Medicine- Rehabilitation
"Good Recovery- Good Reflexology- Passionate Treatment"
I. General introduction
The Department of Traditional Medicine and Rehabilitation (Traditional and Rehabilitation Medicine) Yen  Binh General Hospital, Thai Nguyen has 04 doctors and 9 doctors and technicians. Doctors and nurses are all trained in traditional medicine and rehabilitation. The department has invested in some modern equipment and mastered a number of advanced procedures such as: Short wave, Infrared, paraffin candle application, stretching back spine, cervical spine by machine, Ultrasound therapy, treatment by pulse electricity, electrolysis, laser beam, acupuncture, wormwood, water acupuncture points, hydrotherapy (foot soak with traditional medicine), acupressure massage, area massage and exercise. Decoction and packaging…
In addition to the above methods, the department also applies the combination of Eastern and Western medicine treatments and modernizes traditional medicine and rehabilitation. Currently, the Faculty of Traditional Medicine has successfully treated a number of diseases such as:
 – Musculoskeletal diseases: Osteoarthritis, spondylolisthesis, recovery after surgery for limb injuries…
 – Neuromotor diseases: Hemiplegia due to stroke, quadriplegia, paralysis of 2 lower extremities, sciatica, disc herniation of cervical spine, back, sequelae of peripheral nerve paralysis, VII nerve palsy, functional headache and especially rehabilitation for children with cerebral palsy (difficulty speaking, unable to stand, unable to sit….vv)
On average, the Faculty of Traditional Medicine and Rehabilitation receives a lot of patients every day for examination and treatment. During the examination, the doctors and nurses always ask carefully about the signs and history of the disease and give careful advice and advice after the conclusion. Administrative procedures are also simple and fast. The attentiveness, meticulousness and convenience for the patient is very reassuring and trustworthy in treatment.
Yen Binh General Hospital in general and the Faculty of Traditional Chinese Medicine and Rehabilitation in particular always unite, share and help each other in their work; constantly studying and cultivating professional qualifications, qualities and medical ethics of doctors; improve the spirit and attitude of serving patients, consider them as their relatives, attract a large number of patients to come for examination and treatment. Good recovery – Good reflexology – Enthusiastic treatment is always our motto.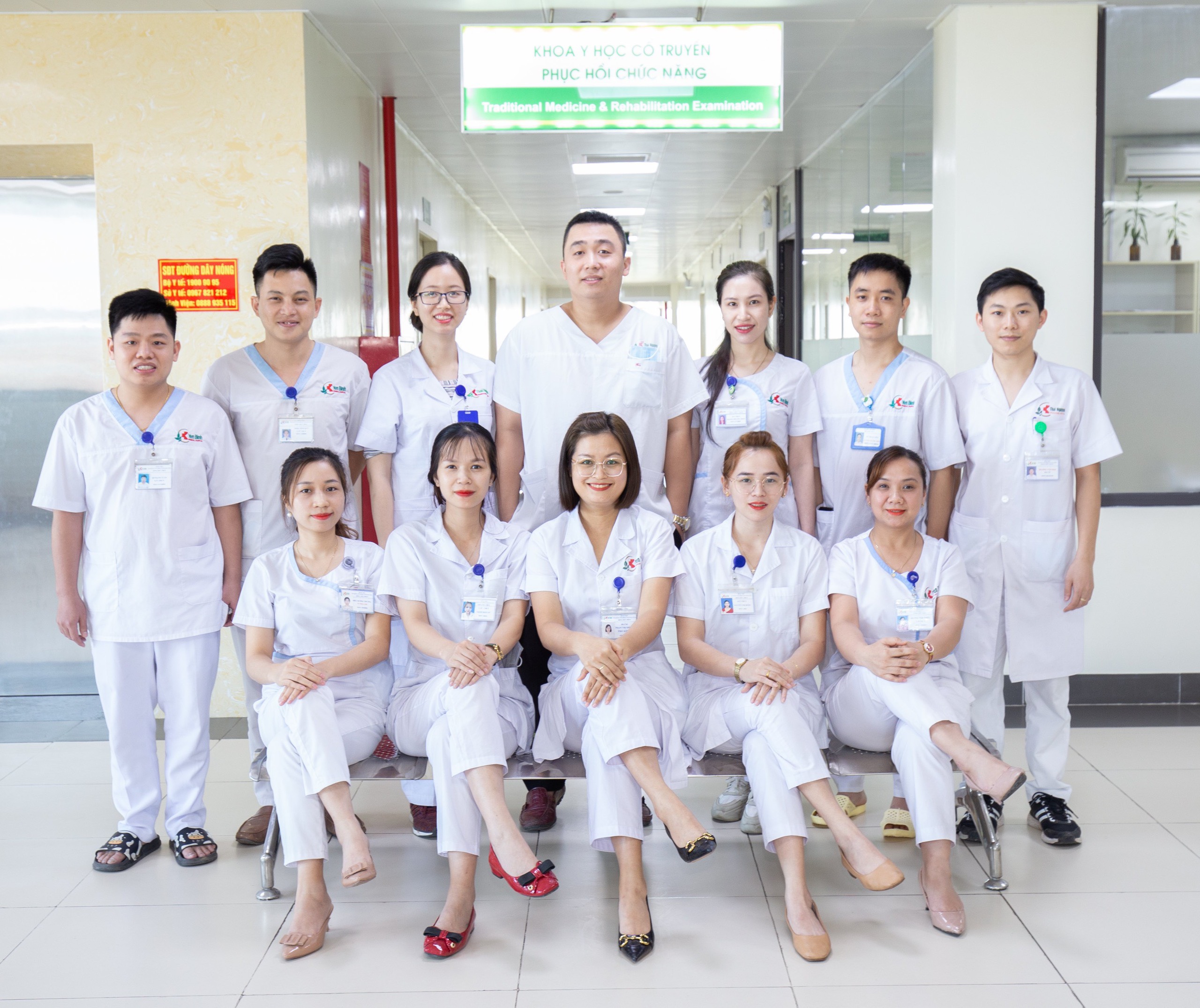 The collective of medical staff and doctors of the Faculty of Traditional Medicine – Rehabilitation
II. Organizational structure
Dean: BSCKI Pham Thi Nhung
The Faculty of Traditional Medicine – Rehabilitation has 12 members including:
Doctor: 04

Nurses and technicians: 09
For details please contact: 
Department of Traditional Medicine- Rehabilitation- Yen Binh General Hospital Thai Nguyen
Chua Hamlet, Nam Tien Commune, Pho Yen Town, Thai Nguyen
0888 935 115