Department of Anesthesiology and Resuscitation
"Stable Resuscitation Anesthesia
Safe surgery, gentle pain relief"
I. General introduction
The Anesthesia and Resuscitation Department of Yen Binh General Hospital, Thai Nguyen is located on the 4th floor of the 7-storey building (Building A). Is a separate area, has a spacious corridor, has a lobby, is clean and airy. 
Faculty was established in December 2020 with highly qualified and experienced staff. The Department of Anesthesiology and Resuscitation is always united and constantly strives to train, update knowledge and improve professional qualifications to meet the requirements of surgery as well as ensure and improve the quality of patient service.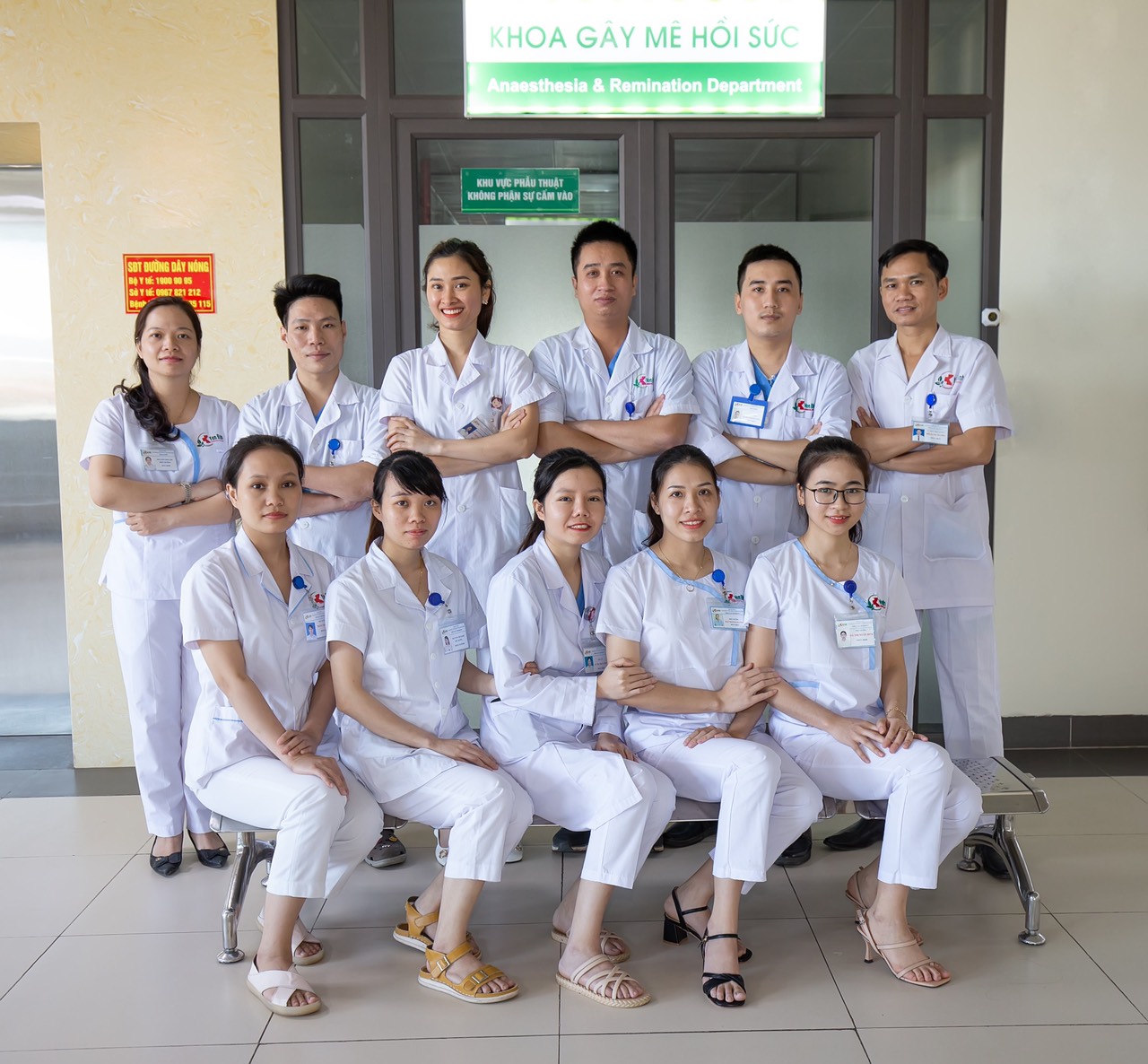 II. Organizational structure 
Dean of BSCKI Department Tran Doan Huy
The Department of Anesthesia has 12 staff members:
+ 01 Doctor of CKI GMHS
+ 02 GMHS Orientation Specialist Doctors
+ 01 Chief Nurse
+ 08 technicians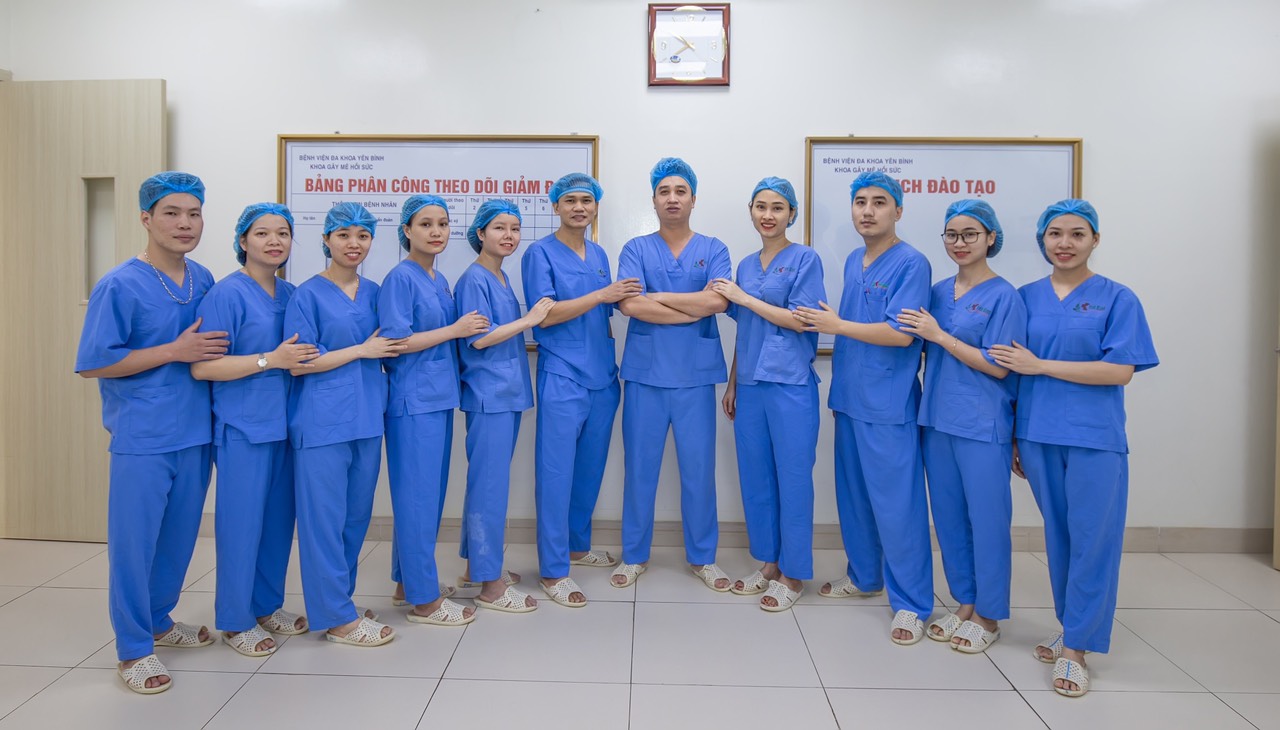 III. Functions and duties of the faculty
1. Function
– Department of Anesthesiology and Resuscitation is a clinical department with the function of performing anesthesia – resuscitation before, during, after surgery and performing a number of anesthesia-resuscitation procedures for patients in accordance with regulations. Technical expertise ensures anesthesia – resuscitation to serve surgery for all departments in the hospital.
2. Mission
-Follow the approved anesthetic-resuscitation professional procedures.
– Training, participating in training, scientific research, international cooperation in the field of anesthesia – resuscitation.
-Perform other tasks assigned by the head of the medical examination and treatment establishment.
3. Professional activities 
+ The department has 03 operating rooms, all of which are fully equipped with anesthesia machines and breathing machines
+ 03 Multi-position operating table for anesthesia and surgery
+ System of oxygen, compressed air and central suction machine
+ The most modern monitoring system (7 parameters) today
+ 01 pre-anesthesia room and 2 recovery rooms (in which 1 sterile recovery room and one sterile recovery room)
Especially, the operating room area is designed according to a one-way aisle. There is a separate entrance for medical staff, patients, clean items, sterile items and a separate path for dirty items according to regulations.
IV. Outstanding Achievement
The Department of Anesthesiology and Resuscitation has been in operation since December 2019. After nearly 2 years of operation, our department with a team of experienced doctors and technicians has a high sense of responsibility with the motto "Put patient safety first – Always aim for satisfaction". of the patient".
  The Department of Anesthesia and Resuscitation has successfully implemented:
+ 2100 surgeries
+ 3500 cases of gastrointestinal endoscopic anesthesia
+163 cases of multimodal pain relief (From November 2020)
+ And the anesthesia cases outside the operating room.
+ Coordinating and supporting emergency care for inter-specialty and out-of-hospital patients
The department has successfully performed many difficult anesthesia cases on patients with complex medical conditions, children and the elderly.
Besides, the Faculty regularly organizes seminars and professional training for all faculty members to improve their professional qualifications.
The department has successfully deployed multimodal analgesia to help patients go through surgery and post-surgery smoothly. Shorten hospital stay (Spine surgery, craniocerebral surgery, gastroenterology, urology, obstetrics, interdisciplinary …)
For details please contact:
Department of Anesthesiology – Yen Binh General Hospital Thai Nguyen
Address: Tran Nguyen Han Street, Nam Tien Ward, Pho Yen City, Thai Nguyen
Hotline: 1900 8035 (Branch 3)