The article is professionally consulted by Ths.BSCKII. Nguyen Chi Duc, Deputy Director of Yen Binh General Hospital, Thai Nguyen
An artificial hip replacement is surgery to remove damaged components of the hip caused by hip osteoarthritis or trauma that has damaged the hip joint. This is a routine technique at two facilities: Thai Nguyen International Hospital and Yen Binh Thai Nguyen General Hospital, under Thai Nguyen International Hospital Joint Stock Company (TNH).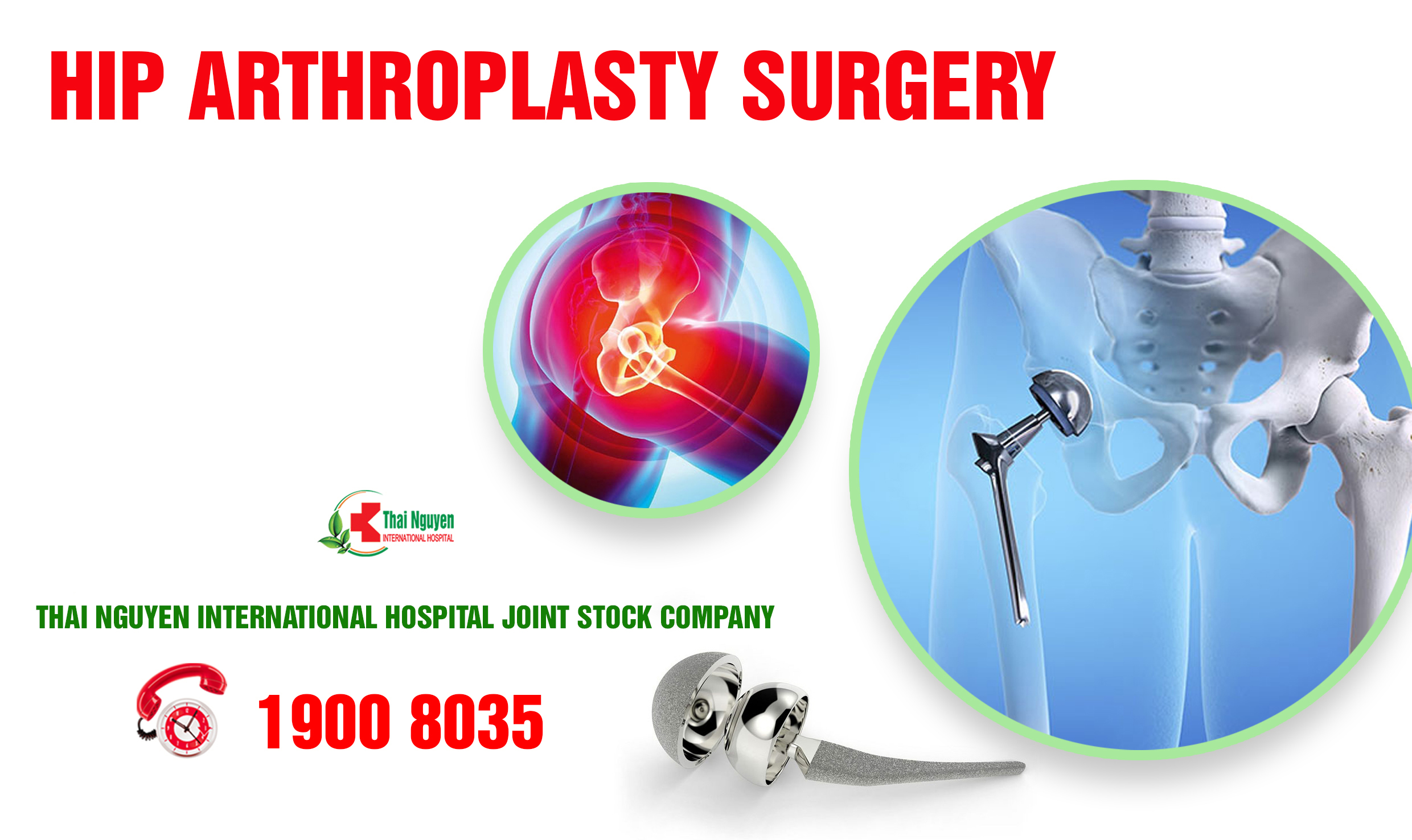 What is hip replacement surgery?
Artificial hip replacement is considered the last resort and the strongest measure to treat hip osteoarthritis, especially with severe cases of osteoarthritis. Hip replacement surgery helps patients to completely relieve pain, quickly restore movement and restore the patient's ability to live in the most comprehensive way.
Hip replacement surgery has only been applied in the last few years in Vietnam. This technique requires experienced and skilled operators, along with modern equipment, and the operating room ensures absolute sterility to bring maximum efficiency. Patients should choose reputable and quality facilities for surgery to limit unnecessary risks.
Subjects applying artificial hip replacement surgery
– Patients with severe hip osteoarthritis, difficult hip movement.
– The patient has a serious disease of the femoral head.
– Patients with femoral neck fracture or femoral head fracture due to trauma.
Advantages of artificial hip replacement method
– Less damage to the soft tissue surrounding the joint.
– The surgery time is shortened, revealing the exact part of the joint to be replaced.
– Reduce the risk of infection.
– Reduce postoperative hospital stay, reduce intraoperative and postoperative pain,
– Post-replacement joint is stable, creating conditions for early rehabilitation exercises, patients can soon return to normal activities.
How long does hip replacement take?
Currently, with the development of modern medicine, the level of doctors is increasingly advanced and specialized, along with joint replacement materials that are increasingly suitable for patients, the hip replacement technique has many advantages such as: less pain, early recovery… However, this method still has some certain risks that cause patients to have to perform surgery again such as artificial joint loosening, artificial joint wear.
The life expectancy of artificial hip joints in recent years is quite high, even up to 80% of patients after hip replacement surgery reach 20 years.
Why should artificial hip replacement be done at 2 hospitals in TNH?
Currently, artificial hip replacement surgery has been performed routinely at Thai Nguyen International Hospital and Yen Binh Thai Nguyen General Hospital, with many advantages:
– The technique of hip replacement with a very small incision helps to minimize damage to the healthy tissues around the joint, accurately revealing the damage and the joint to be replaced. Maximum prevention of the risk of infection, bleeding after joint replacement, minimal damage also contributes to limiting postoperative pain for patients, helping patients quickly recover and return to daily activities.
– Comprehensive pain relief in surgery and after surgery: Under the guidance of ultrasound, anesthetic techniques reduce pain for patients during surgery and after surgery to help patients not have to endure any pain, the anesthetic technique is reduced. Pain under the guidance of ultrasound helps doctors perform the operation most accurately, the patient achieves a comfortable state during and after surgery.
– Reasonable cost, modern materials: Currently, at TNH, there are all kinds of artificial hip joints suitable for all customers.
The Department of Traditional Medicine – Rehabilitation of 2 hospitals under TNH has a system of modern machinery to help patients recover their function after surgery effectively.
Book an appointment simply and quickly through:
Hotline: 1900 8035
Fanpage: Thai Nguyen International Hospital & Yen Binh Thai Nguyen General Hospital
Website: congtycophanbenhvienquoctethainguyen.com
*Please download App TNH for comprehensive health care